21 APR
WEBDOUX IS A TOP DIGITAL MARKETING AGENCY ON NEILSBERG!
We are proud to announce we are featured as one of the Best Digital Marketing Companies in Chennai on Neilsberg's platform.
Neilsberg is a global market research and advisory firm providing information, advice and tools for decision-makers in forward-thinking business across the world. Neilsberg Awards seeks to honour companies across the world, which has gone above and beyond for their clients.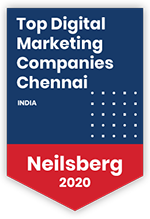 Our recognition stems from our excellent reputation in the industry and constant dedication to serving our client's requirements. A special thank you to Neilsberg for this recognition and to our wonderful clients for choosing to work with Webdoux!