4 NOV
9 TIPS TO RANKING IN GOOGLE'S FEATURED SNIPPETS
Obtaining traffic from Google means that you've got to keep up with all of Google's features all of the time. If you haven't noticed, Google constantly changes their features. And you've got to know exactly how they work so that you can rank for them. You also have to keep an eye on competitors. Google results are now full of so much more than just plain links. Featured snippets are the first thing that most people see when searching for a word or phrase.
What is a Google featured snippet?
Google will answer your question with a snippet containing information about your question above all of the other links on the search results. Google usually pulls them right from the content that's already ranking on page one, but it can also pull from lower ranking SERPs. These featured snippets make finding answers easier than ever before because you don't have to click anything to view the information.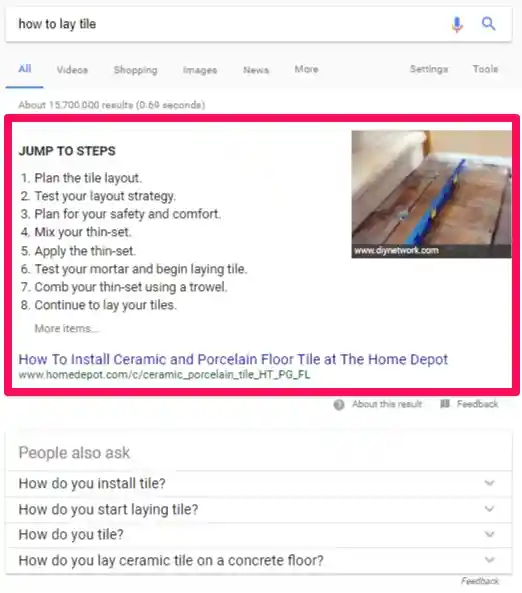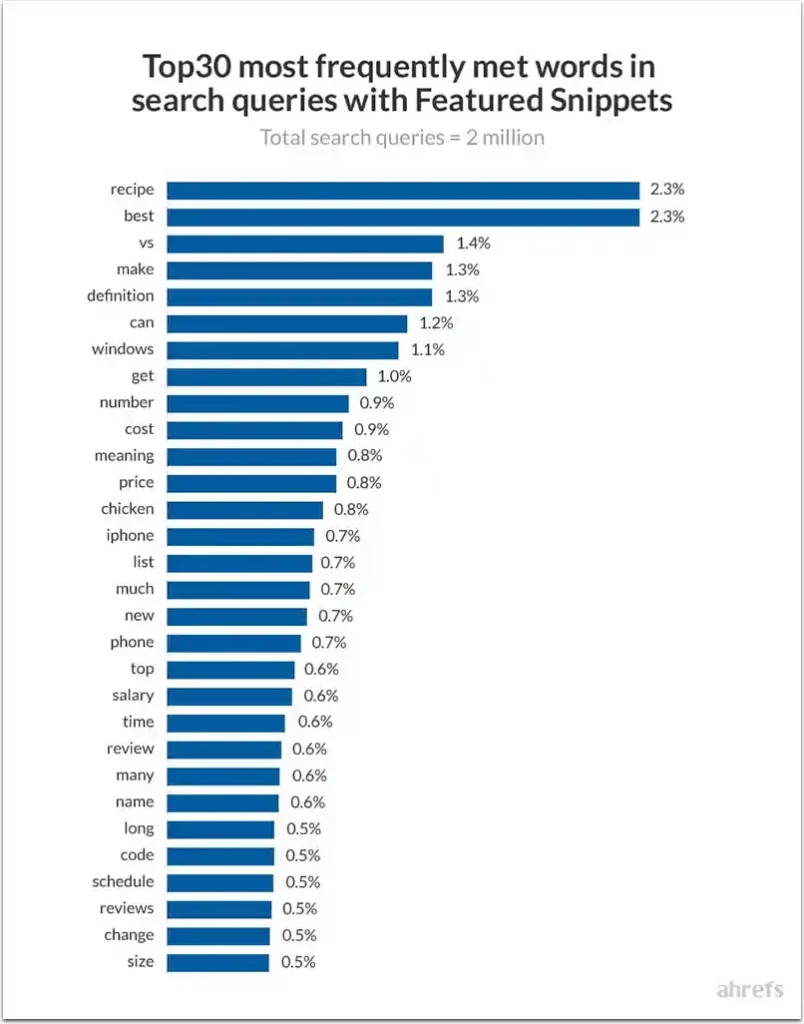 Ranking for a featured snippet is so much more helpful and effective for driving visitors to your site than ranking for #1. They dominate the SERPs, give you tons of exposure, and keep your website far above the fold. Plus, they'll boost your company's credibility quicker than any other method. And you don't necessarily have to pay any extra advertising fees to rank for them. The easiest way to earn a featured snippet spot is to produce quality content and format it in a way that Google will love. You have to make your content "snippable" so that Google will recognize your link. If you've already got some links with high rankings, you're in luck.
According to Ahrefs, 99.58% of featured snippet pages already rank in the top 10 SERPs in Google for a particular search query. That's why you've got a good chance of earning featured snippets for search queries that you've already achieved high ranking spots with. However, Getstat says that 70% of snippets come from sites that aren't in the top-ranking organic position.
Now let's go over the different types of featured snippets.
Types of featured snippets
There are three major types of featured snippets:
When it comes to paragraph style featured snippets, Google gives an answer to the searcher in text rather than a list. There may also be an image that accompanies the text, like below
Tip #1: Use SEMrush to find competitors' snippets
SEMrush is a great analytics resource, but did you know that you can also use the tool to find featured snippets? You can use it to find out which featured snippets your competitors have earned as well as find out which featured snippets you're already ranking for. All you've got to do is run a regular domain search and click "Organic Research." Then, just click on the "Featured Snippet" on the bottom right-hand side of the page.You can even filter keywords by clicking on the "Advanced Filters" option to include featured snippets.
Then, once you know which snippets your competitors are earning, you can optimize your content for the same exact words and topics. When checking out your own snippets, be sure to keep an eye out for variations of other keywords that you could rank for as well. But SEMrush isn't the only resource for finding featured snippets. Google is a great resource, too.
Tip #2: Use Google to uncover snippet opportunities
One of the best ways to find snippets that you can optimize content for is to think like your audience. What questions are people actually trying to find answers for?
For instance, put yourself in the shoes of someone who is new to marketing and may not understand some common terms. There are a whole lot of terms and acronyms in the marketing world that can be intimidating and confusing to people who aren't familiar with them.
Tip #3: Find content ideas on Answer the Public
Since questions are most likely to bring up featured snippets, you've got to answer how, what, when, where, why, or who. The best place to find out the types of questions people might be asking about a particular topic is Answer the Public.
Tip #4: Do keyword research
It's time for some good old keyword research. You should already be doing it. But you can optimize your keyword research to help you get featured snippets, too. It's a good idea to use a tool or two to find out if a search query will bring up featured results or not. I like Serpstat because it allows me to easily see which keywords bring up featured snippets on the results page.
Tip #5: Answer multiple questions
Do you remember the Ahrefs study from earlier? Well, it also uncovered that once a page earns a featured snippet, it's more likely to become featured in other related queries. That's why you should structure your article in a way that answers every related question in one location. Focus on beefing up one solid article that answers tons of questions rather than multiple articles if you want to earn featured snippets. Word count is a huge factor to consider, too.
Tip #6: Stay within the optimal word count
Keep your section tight and concise so that Google can easily feature your content. Section off your lists, paragraphs, and steps rather than letting them all run together.You should try and keep each section of content no longer than 50 words and no shorter than 40.Use headers to break up your content sections.
One quick, simple way to format your content for featured snippets is to make sure that you break up each section. Use the "Paragraph styles" section on Google Docs or in WordPress to do this. Organize your steps, lists, or paragraphs with headers. I prefer h2 headers, myself. Use h1, h2, h3, or h4, and be sure to organize your subheadings by size.
Tip #8: Add a "how-to" section to your website
Since featured snippets are such a great opportunity to attract website traffic and gain new leads, it's a smart idea to redesign your site in a way that lets you optimize "how-to" content. Some websites are creating entire sections on their sites that are specifically for giving answers to their readers' questions.
Tip #9: Add high-quality images and video
Most people love to learn visually, which is why photos and videos can help you rank for featured snippets. 65% of people watch at least three-quarters of a video and 59% of executives believe that people are more likely to watch a video if they combine text with video. One simple way to do this is to create a voice transcript for all of your videos. Google will recognize the text and might choose it for a featured snippet. You should also make sure that your video content is high quality.
Trying to keep up with Google can be absolutely exhausting. But it looks like featured snippets aren't going anywhere. In fact, they're on the rise. That means that pages with featured snippets are dominating search queries. They're the first thing that comes up in most SERPs and they're more than just plain links. Earning a featured snippet means that you rank for position zero, which is the highest ranking spot possible without advertising.
If you want to boost conversions, drive visitors to your website, and beat your competition easily, ranking for featured snippets is the answer. Now that you know exactly what featured snippets are, there's no excuse not to try and rank for them. Start out by finding out which featured snippets your competitors rank for with a tool like SEMrush. You can also use Google to find other featured snippet opportunities. Use Answer The Public to identify tons of potential content ideas, and be sure to answer as many related questions as possible in one article. Keep the word count for each question brief: no more than 50 words. Use headers to break up steps and lists, too.
Don't forget to add a "how-to" or Q&A area to your website to give content that you optimize for featured snippets a place to live. And add lots of high-quality images and videos where you can. Create voice transcripts for videos so that Google will recognize the text and consider your videos for snippets, too.

What are your tips for ranking for Google's featured snippets?
Source: https://neilpatel.com